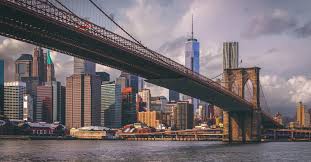 Planning a trip for Brooklyn this weekend? You might have packed your bags and booked your flight tickets as well but did you plan for what things to do in Brooklyn this weekend? Don't worry we are here to help; we'll help you to find out the best things to do in Brooklyn.
Brooklyn is the most popular District of New York City. With an estimated population of 27 Lakh as of 2017. Neighbouring with Queens at the western end of Long Island this city is named after the Dutch village of Breukelen. Brooklyn offers a great attraction for travellers and tourists. Starting from its vintage culture to its music and sports Brooklyn will show its best to the tourists. Visit from our top choices below and find out the best things to do in Brooklyn this weekend:
Give a Walk at the Brooklyn Bridge:
This is the most mesmerising activity for any first-time visitors in the city. With a 360-degree skyline view of entire New York City along with Manhattan and precisely you can get to look Statue of Liberty too. Walk in the Brooklyn Bridge can be done any time in day and night as well.
Look Around at the Great Street Art:
Brooklyn is also known as the best place to learn and see art. It is one of the world's best regions to have street arts made by great artists. A ride from your any hotel to Bushwick Graffiti and Street Art tour and Williamsburg Street art tour will make your visit to Brooklyn more interesting with all these street arts.
Visit Barclays Centre for any Sports event or Concert:
Founded in 2012 the Barclays are the best spot to have many indoor sports events like Basketball, Ice Hockey and many more. The view from any side of the stands to the main centre spot is just mesmerising. The Barclays Centre rivals the Madison Square Garden for its popularity and concerts that makes this place a must-visit spot for tourists.
Take a Ride in the Double Decker Non-Roof Bus:
In the city of Brooklyn Bus tour is the best way to visit all the major attractions in the city. Just come out in the afternoon and take a Double decker Non-Roof Bus which will take you through the Brooklyn routes. You will have stops on Brooklyn Museum, Botanic Garden and many more amazing places.
Listen to the World-famous Brooklyn Tabernacle Choir:
When you are finished with the entire out scene visit in the city, the Tabernacle Choir is the best place to be relaxed and have great music experience. This group is one of the best Choirs of all time, and their shows are available only on Sundays only at 9 AM, 11 AM and 1 PM
So, we have listed out the best things to do in Brooklyn this weekend now it's time to be ready for the most amazing tour of your weekend. We hope you liked this article and wish to see you back again. If you have any queries related to this article then feel free to reach out to us in the comment section below. Thank You for reading.